Can technology help people with memory problems and support their carers?
As we get older, we may find ourselves forgetting things more often. People living with dementia, and their carers, know better than anyone how distressing this can be. However, there are several new technologies to help people with dementia retain their independence, enabling them to continue to live at home for as long as possible. Many of these technologies are fairly new and include 'assistive technologies' such as virtual assistants, electronic reminders and tracking devices.
This article introduces some of the newer, but widely available, technologies such as 'virtual assistants', but it also includes more traditional technologies such as specially adapted phones and medication aids.
'Assistive' technologies

'Virtual assistants'

Automatic calendar clocks

Dementia-friendly phones

GPS tracking

Assistive technologies for carers

What's next for assistive technology?

Robot pets

Medication aids

Reminder messages

Reminiscence and leisure aids

Safety aids

AT memory aids – hire or buy?

Recommendations and considerations
'Assistive technologies'
'Assistive technologies' (AT) are those technological developments which help make day-to-day life as easy and as safe as possible for the elderly and for people with disabilities. These technologies aren't replacements for human contact and can't cure underlying conditions, but they can help people with dementia to continue to perform daily tasks such as cooking without the hazard of, for example, leaving the gas on. Carrying out such daily tasks safely can enable a person with memory problems to retain more of their independence. This is an important benefit of these technologies as many older people want to stay in their own homes rather than move into care homes.
Most assistive technologies today aim to support day-to-day living, monitor safety and assist with healthcare.
While they can make life easier for those who use them, they generally don't focus on improving quality of life.
'Virtual assistants'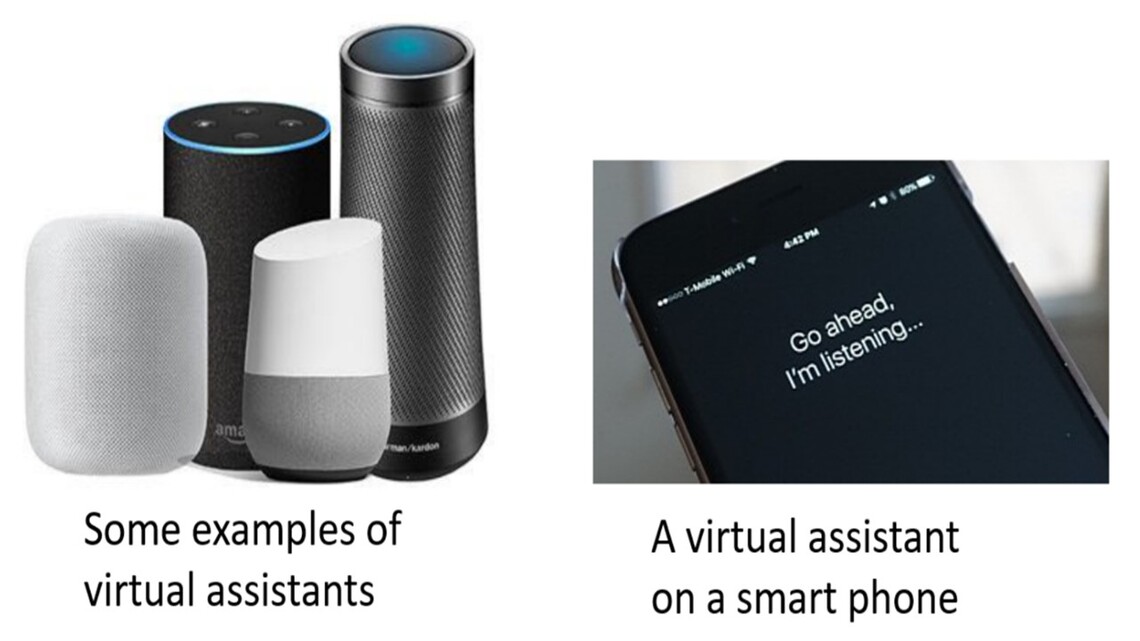 A virtual assistant, such as Alexa or Google Home, is an electronic device with a microphone and a loudspeaker that has the ability to 'understand' and to respond to voice commands. Some of the basic features allow a person to talk to the device and, for example, tell it to set a timer. Virtual assistants can remind people with dementia when it is time to eat or when to watch their favourite TV programme or when to leave for a doctor's appointment. When connected to other electronic devices in the home, virtual assistants can turn lights on and off, adjust the temperature in a room, turn the radio or tv on or off and many other simple tasks. They can also remind people what day it is, give news and weather updates on command and even add items to a shopping list. This versatility means that they may sometimes be more useful in the earlier stages of dementia.
Automatic calendar clocks
Calendar clocks remind people of the correct day, date and time. They can tell the difference between morning, day and evening thus helping to prevent confusion for a person with dementia – especially useful when it gets dark in the winter before 5 pm. Some calendar clocks can also be programmed to display messages at the appropriate time of day such as 'Remember to take your pills'.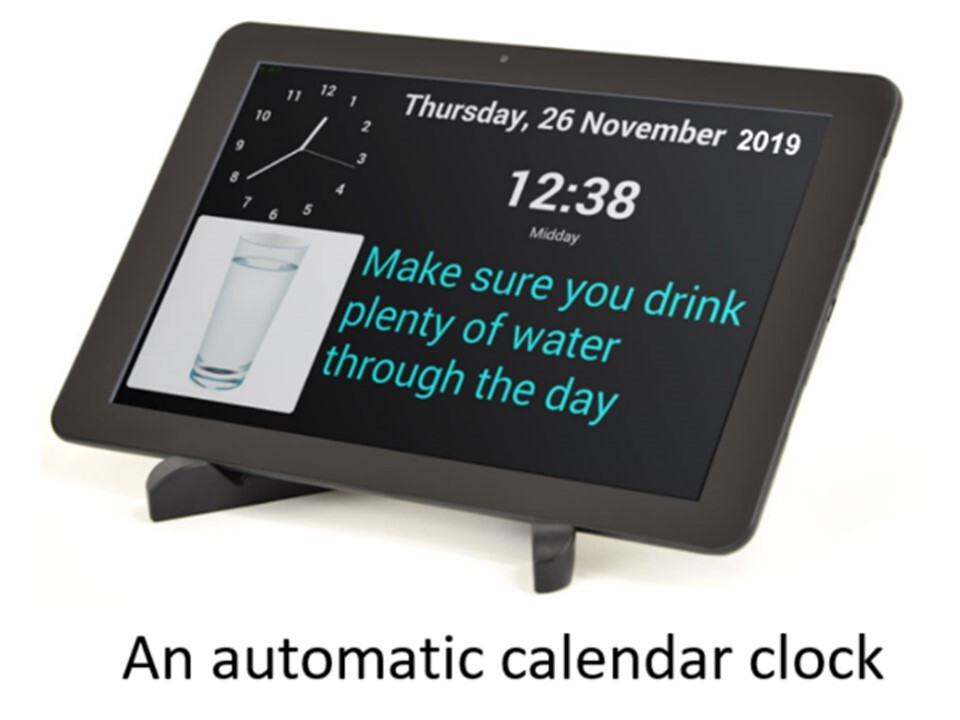 Dementia-friendly phones
Although telephones are now more powerful and sophisticated than ever, they may prove challenging for someone developing dementia to use. As a result, a number of simpler phones have been developed, for example with large clear buttons that are easy to see and to press, and with pre-set contacts and/or photos rather than numbers.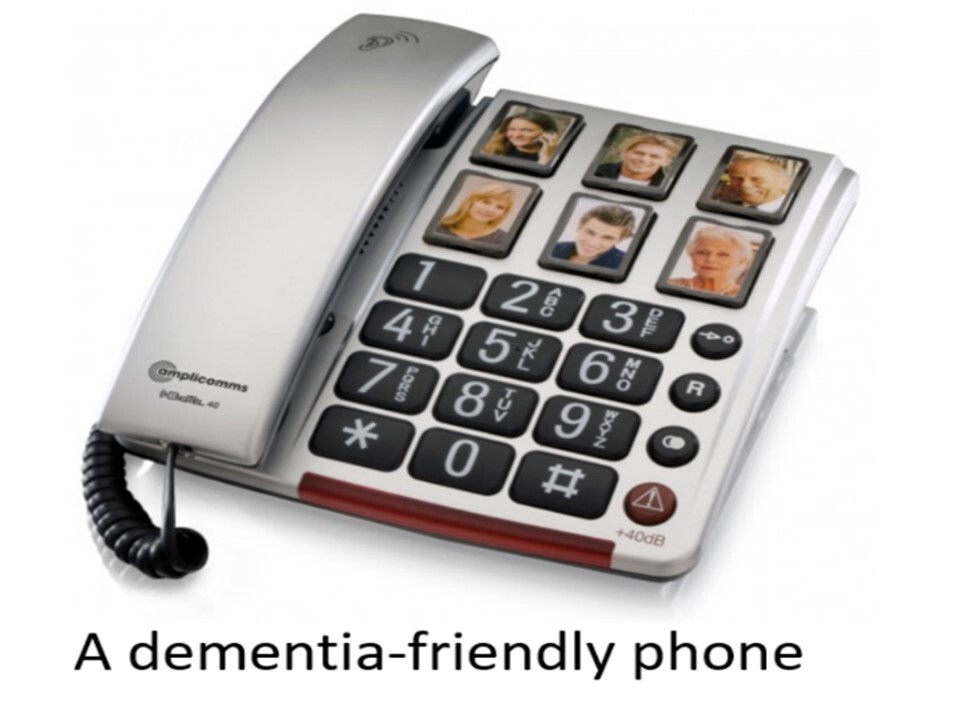 GPS tracking
As a person's dementia becomes more serious, they may start to wander, for example leaving the house to get to someone they used to know. If the person they want to see has moved house, for instance, or the building and landmarks are no longer the same, the risk of getting lost is greatly increased. In response, small, battery-powered GPS (Global Positioning System) tracking devices have been developed that a person can wear around their wrist or on a pendant round their neck and that can be tracked by a carer. These trackers also often have a panic/emergency button the person can press if they need help.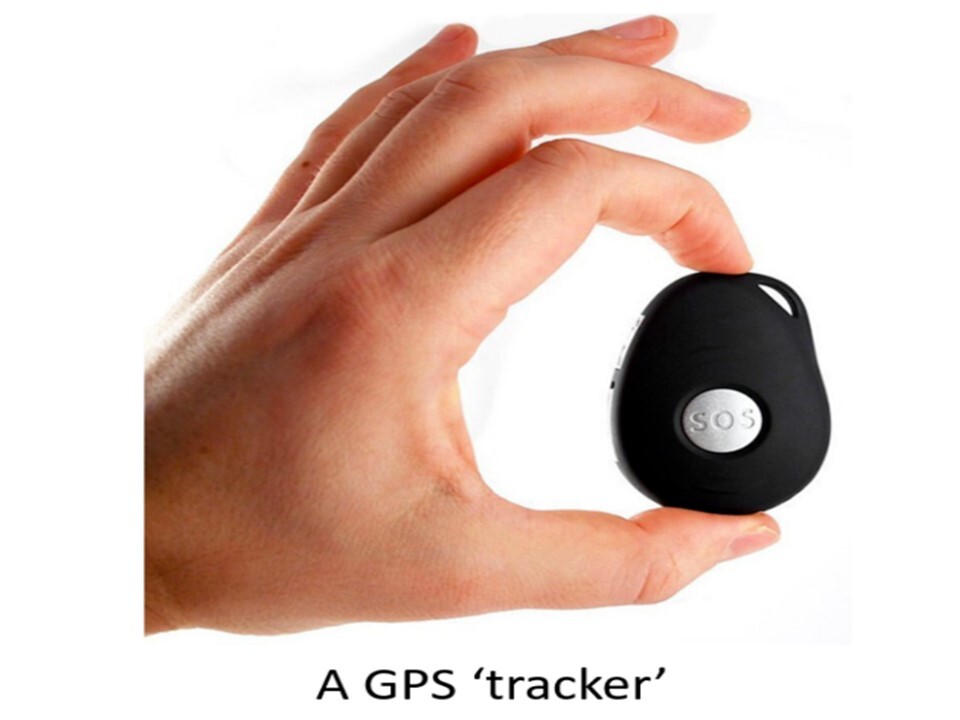 Other designs have also been used, including GPS trackers in shoes. This design, which reduces the chances of the person leaving without the GPS tracker, relies on procedural memory, such as putting on shoes before leaving the house, which is often retained after developing dementia.
The aim of a GPS tracking device is to help someone remain independent for as long as possible, and not simply to 'tag' them for other people's convenience.
Even with power of attorney, carers and care homes need to ensure that any decision about tracking a person with a GPS device is in the best interests of that person.
Assistive technologies for carers
The NHS estimates that there are about 540,000 people caring for over 650,000 people living with dementia in England alone. One in three of us will care for someone with dementia in our lifetime. The Alzheimer's Society puts the figure of people living with dementia at closer to 700,000. Whatever the exact figure, the number is significant. Importantly, carers can experience significant stress and anxiety, not least the estimated 40% who provide round-the-clock care.
AT can help carers look after their loved ones while also reducing the pressure on themselves. A small study of carers in 2019 found that a majority of the participants expressed a positive experience in its use. They cited ease of use, a sense of reassurance and considerations of safety and autonomy as reasons for liking AT. Indeed, carers continued to use AT even after there was an increase in formal care services or despite having to find information and fund the purchase of the AT themselves. Another reason carers liked AT is that it complements carer support by helping carers to use their time on more meaningful activities and interactions with the person they are caring for.
On the other hand, the study found that AT didn't always keep pace with the progression of the dementia, for instance when a person wearing a pendant alarm is no longer able to activate the alarm. There were also time and cost implications for carers to keep up to date with the technologies.
What's next for assistive technology?
A systematic review of assistive technology studies in 2017 reported that many options are commercially available, although the usefulness and user‐friendliness of these devices are often poorly evaluated.
Another review found that electronic memory aids show potential for supporting people's prospective memory – the ability to remember to do something at some point in the future – but the devices and software applications still need further development to function reliably. The review also found that few studies were conducted in users' home environments, thus limiting the value of the findings. In addition, most of the studies focused on the effectiveness of the device itself rather than on the outcomes for its users, outcomes such as improved daily functioning, better quality of life, or more meaningful social connectedness.
A third systematic review concluded that 'the majority of AT currently available support day-to-day living activities, safety monitoring and assisting healthcare'. However, these devices merely address the 'ease of living' rather than improving the 'quality of life'. Although there are some devices which address social symptoms of dementia, such as depression, anxiety and poor personal hygiene, few address behavioural issues such as aggression, and virtually none are available to support recreational activities such as games, arts and crafts.
These findings suggest that in the future, ATs need to be tested by users more rigorously, ideally in their own homes and over a period of time. This would help to make the devices more user-friendly and more reliable, and would enable users and their carers to make more informed choices. AT needs to develop beyond its current role, to help improve quality of life and to help with behavioural issues that can arise as a result of dementia.
Robot pets
An interesting recent development is robot pets for people with dementia. A 2018 review of the evidence found that, although robot pets – sometimes called 'artificial companions' – didn't improve cognitive function or quality of life, they did produce a statistically significant decrease in behavioural and psychological symptoms of dementia (BPSD), especially agitation and depression.
Examples of robot pets include cats, dogs and even a seal.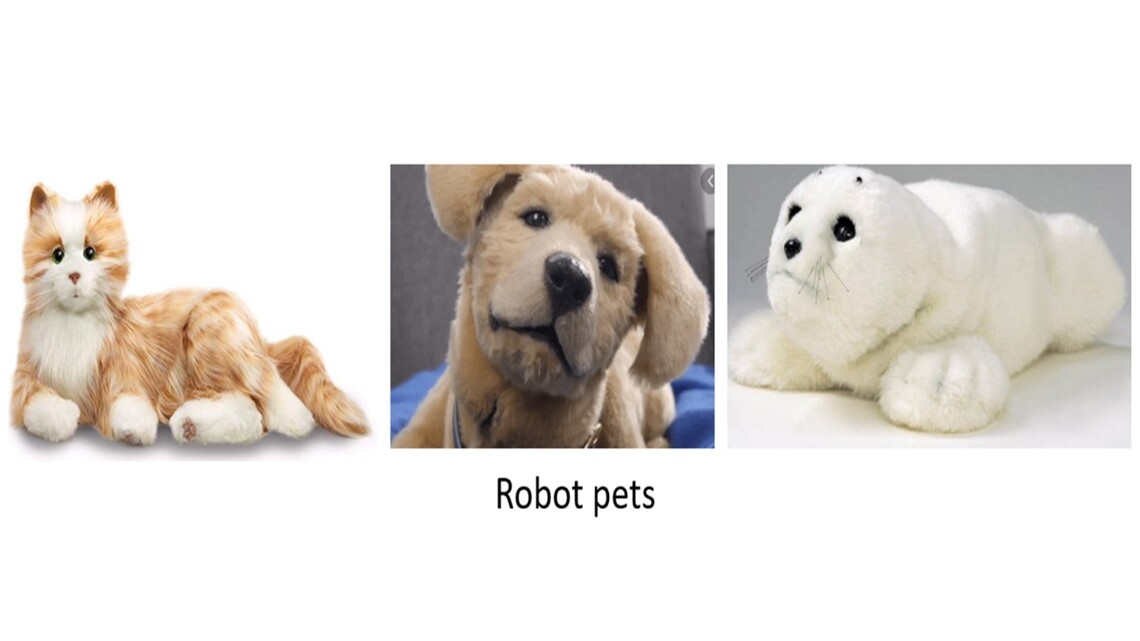 Medication aids
Dosette boxes are pill holders with compartments for the day of the week and the time of the day. They help users take their medication on the right day and at the right time.
Automatic pill dispensers alert users when they need to take their medication and release the medication from a locked compartment. More advanced models can be filled with up to 4 weeks' medication in advance. Pharmacists can help fill the dispenser to make sure the pills and dosages are correct.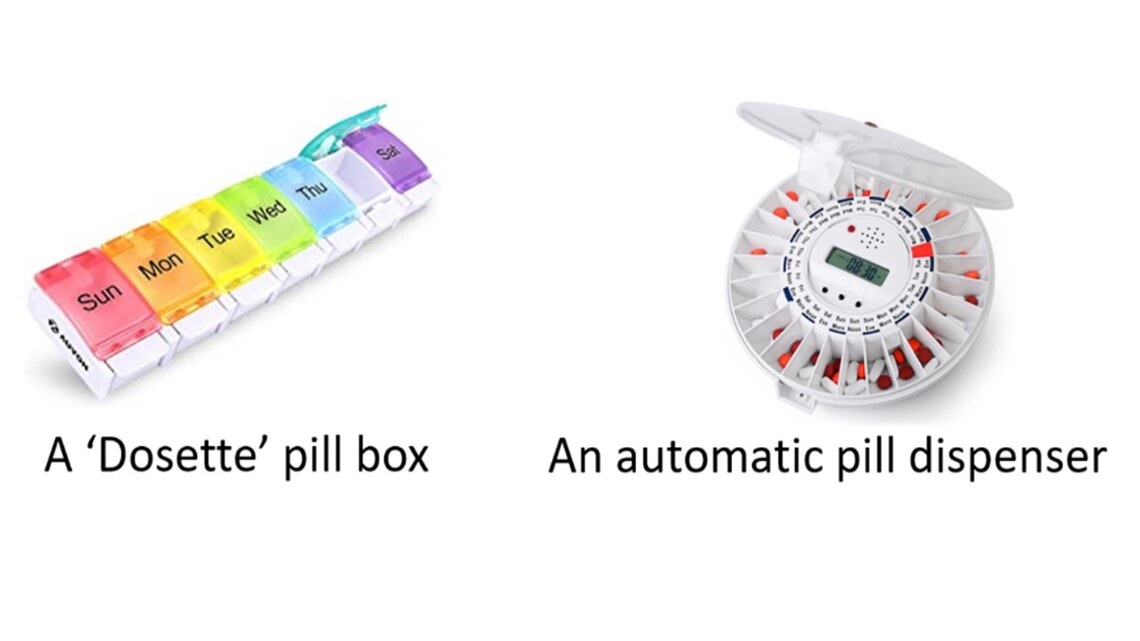 Reminder messages
Reminder messages are recorded personal voice prompts – which can be a familiar voice such as a family member's – to remind the person with dementia of their daily appointments. A message might also be triggered by a 'door monitor' to remind the person when they leave home to take their keys with them and to lock the door. The same technology can also be used, for instance, to trigger a message warning the person with dementia that they shouldn't leave the house, for instance, between 10 pm and 6 am. The message could say, 'Mum, it's night time. Go back to bed and I'll be round in the morning'.
Reminiscence software and leisure aids
These refer to digital software such as Book of You, a reminiscence programme created specifically to help those with memory problems communicate and interact with their carers. Digital software like this enables life stories to be built interactively, using words, pictures, music and film, and helps show who a person was and who they are now. This software aims to improve the quality of life for people living with dementia by promoting conversation, recollecting the past, and very importantly, having fun.
Safety aids
Some ATs aim to reduce the possibility of accidents in the home. For example, there are gas sensors that can automatically shut off the gas in case the person with dementia forgets to do so, and devices like Nova-Flo which automatically turn off a tap if it been left running for too long.
AT memory aids – hire or buy?
Health or social services may provide funding in some cases for purchasing equipment such as the assistive technology memory aids mentioned in this article. To find out more, contact your local community mental health team where a social worker, occupational therapist or dementia advisor can make an assessment of your eligibility and advise you on what is available.
Where funding is not available, memory aids may be purchased or hired privately from local shops, pharmacies, online services or superstores. For example WHICH? and the Disabled Living Foundation advise how and where to purchase such equipment.
Some tips when buying a memory aid:
Ask for the memory aid to be demonstrated before you buy it. Is it easy to use?

Check things like battery life, and whether the memory aid will need regular servicing.

Ask how safe the device is.

Do you need this memory aid for short- or long-term use? For short-term use, consider hiring instead of buying. This could save you money.
Recommendations
Assistive technology memory aids complement good person-centred care; they do not replace it.
The Alzheimer's Society recommends that you consider the following when choosing or using memory aids:
Aids which may work for one person with dementia may not work for another. Remember to keep the use of aids person-centred. Tailor them to the needs and interests of the specific person with dementia rather than taking a one-size-fits-all approach.

Involve the person with dementia in the decisions about which memory aids to use.

Use technological aids to complement good care.

Memory aids which can be easily integrated into the routine of the person with dementia will cause least disruption and therefore may work best.

Start using memory aids as early as possible as they work best during the early stages of dementia.

Some people with dementia may prefer not to use memory aids, as they may view them as constant reminders of their memory problems. Where possible, only use memory aids with the consent of the person with dementia.
Reviewed and updated August 2020. Next review date July 2024.
__________________________
Other relevant articles on the Age Watch website: